World Hajj and Umrah Convention – Visits London Today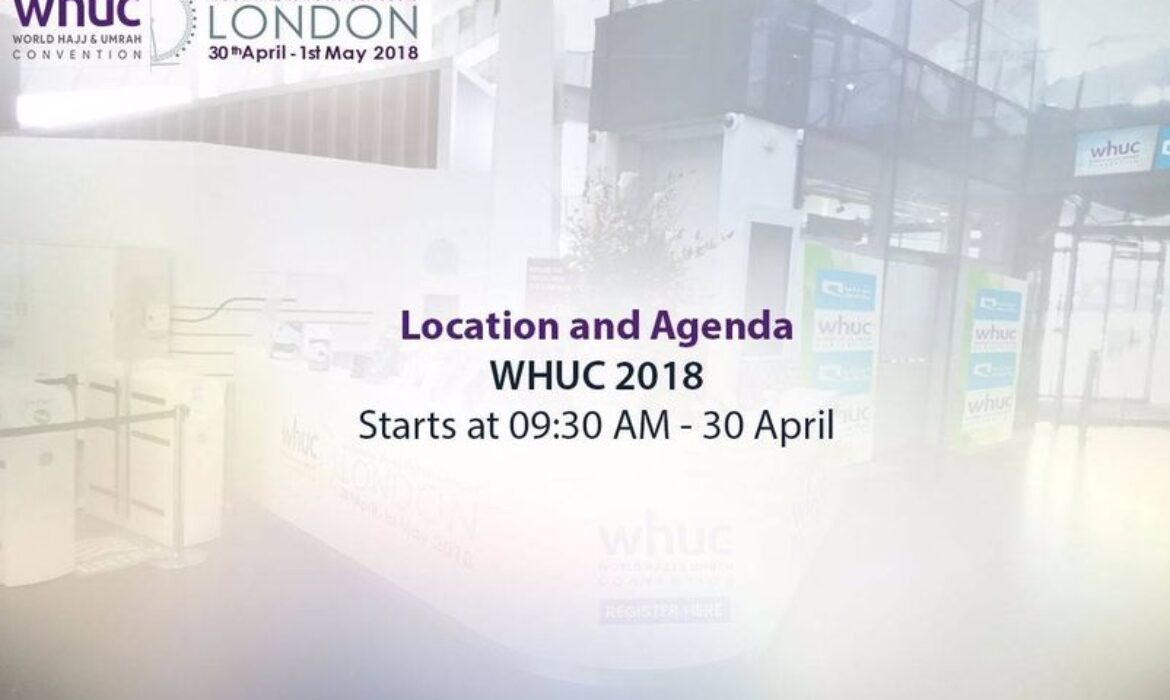 Apr 30 – 15 days ahead of Ramadan, representatives of more than 1 Million Pilgrims convene in London, demonstrating the global achievements advancements made in growing a $16 Billion dollar Hajj and Umrah industry at social, commercial and educational levels.
Government Representative from 10 of the most populous Muslim countries, senior decision makers from 250 leading Hajj and Umrah organisations from 21 counties, working together to develop initiatives to keep in line with the Saudi Vision 2030 enrichment program.
The Hajj is an annual pilgrimage which brings together over 2 million Muslims from around the world to Saudi Arabia, including over 25,000 from the UK. In addition, over 8 million Muslims (including 100,000 UK pilgrims) visit Saudi Arabia throughout the year to perform Umrah, the minor pilgrimage.
The 2018 World Hajj and Umrah Convention is being hosted at the Try Crystal Royal Victoria docks in London. A World-class presentation attended by senior officials including HM British Consul, Barrie Peach from Jeddah, Baroness Warsi, Ministers, Ambassadors.
Important discussion on health and safety, financial management, aviation challenges arising due to football world cup and summer peak seasons, initiatives to grow the Umrah travel sector from 8 million visitors to 30 million visitors to Saudi Arabia annually.
WHUC HIGHLIGHTS
•Britain Hajj and Umrah Sector attracts a large number of foreign investors, Dar El Salam
USA of the first to Launch in 2018.
•350 New Saudi Companies issues Licenses to open businesses Worldwide.
• Baroness Warsi supporting the development of the Hajj and Umrah sector building up her
role as Minister of state for faith and communities
• Malaysia top travel firm chooses to Launch "umrahajj" mobile application at the World Hajj
and Umrah Convention
• Barrie Peach, HM British Consul from Jeddah to address the British Hajj and Umrah for
travel agencies in preparation of Ramadan and Hajj
• Tabung Haji and BPKH, Multi-Billion Dollar Pilgrim fund managements banking institutes
provide training to governments and the private sector, raising a global benchmark in Hajj and Umrah Management, led by former head of the Indonesian fiscal policy, Anggito Abimanyu.
• Global recognition Awards for exceptional contributors towards the advancement of Hajj and Umrah presented including British Cyclists having cycled from London to Madinah and Film producers with One day in the Haram, an award-winning documentary into the Holy Mosque in Makkah.
• Abdul the Arabian Camel from Oxford shall visit the World Hajj and Umrah Convention. The
WHUC in recognition of the Camel's role in historically carrying thousands of Pilgrims to the
Pilgrimage. Meet Abdul the Camel between 9.00 am and 13:00pm on the 30th of April,
exclusively for 4 hours only.
Contact Information:
The media is welcome to cover the World Hajj and Umrah Convention, an event that promises to catapult decision-makers in making the necessary reforms to stay up to date with Saudi Vision 2030 and enrich, empower and enhance the lives of Millions of Muslims and Pilgrims across the globe.
Contact:
English
Lucy Rae
lucy.rae@whuc.org
+447860884589
Saladin Ali
+447526077888
Arabic
Aziz Haib
Aziz.habib@hajjpeople.com
+447466998691
Abu Bakar
+447900003772
Related Posts